Ref:
Date:
Location:
Photographer:
[clikcontent type=paymentBuyLink replaceable=true]
Ref:
Date:
Location:
Photographer:
[clikcontent type=paymentBuyLink replaceable=true]
Newly Imported MX5s
Newly Imported MX5s
Despite the fact that so many MX5s were sold in the UK (both imported 'Eunos' models and UK MX5s), its becoming increasingly difficult to find and buy an MX5 in really nice condition. This situation has got markedly worse over the last few of years or so but there is an answer...
How about if it were possible to find good rust-free cars from somewhere where the road conditions are very kind to cars and then import those cars over here? Well that's just what I have done and consequently I have been importing a small number of wonderful rust-free cars from Japan for a few years now. Each car is hand-picked by me and my partner in Japan. We are genuine car enthusiasts at heart and we try and buy cars that very simply get us excited. I know some importers ship a car here to the UK, pump up the tyres and give it a quick wipe over and then re-sell it as fast as possible, leaving you to sort out the registration paperwork and pay the taxes due. Others go a step further and will MOT the car, take care of registration and then sell the car on. We do rather more than this. Read on...
More Than Just An Imported Car
Our starting point is a car with a superb rust-free body and underside. Our chosen car is then carefully checked over by us and any necessary repairs carried out. The sun in Japan can take its toll on bodywork so we often find that we need to carry out a fair bit of paint rectification and we nearly always fit a new soft top. Its the same with various bits of plastic trim, interior fittings and even seats: if we need to replace, refurbish or re-trim, we will do so. This can be expensive and time-consuming for us but the results are well worth it and the finished car always look superb. Moving on to the drive-train and suspension. If we think the car is due for a cambelt change, we will do this and we often fit a new cat back exhaust system. In fact to give you some idea of the lengths we go to, we spent many, many hours fitting and checking exhaust systems provided by many different manufacturers until we found one that replicated the sound and build quality of the original item. Every car is serviced properly with new filters, spark plugs and fluids.
The suspension system is checked over and is often replaced. The reason here is simply that the Japanese are great fans of car modifications and some of the suspension set-ups they use (on roads that are substantially better than ours) are simply not appropriate for UK roads. Then each car has a full four wheel alignment to ensure it handles properly. Finally its given 12 months MOT and each car is test driven extensively. I know how a good MX5 or RX7 is supposed to perform and handle (having driven many thousands of examples) so my aim is to end up with a car that meets my high standards.
I pay all import duties, taxes, registration fees and I take care of all required paperwork. I supply and fit new registration plates and the car will be ready to drive away and be enjoyed but under 2014's car tax legislation, you will need to tax the car.
As you can see, I spend a lot of time, money and effort on my cars and I'm really proud to say that I supply some very nice cars indeed. .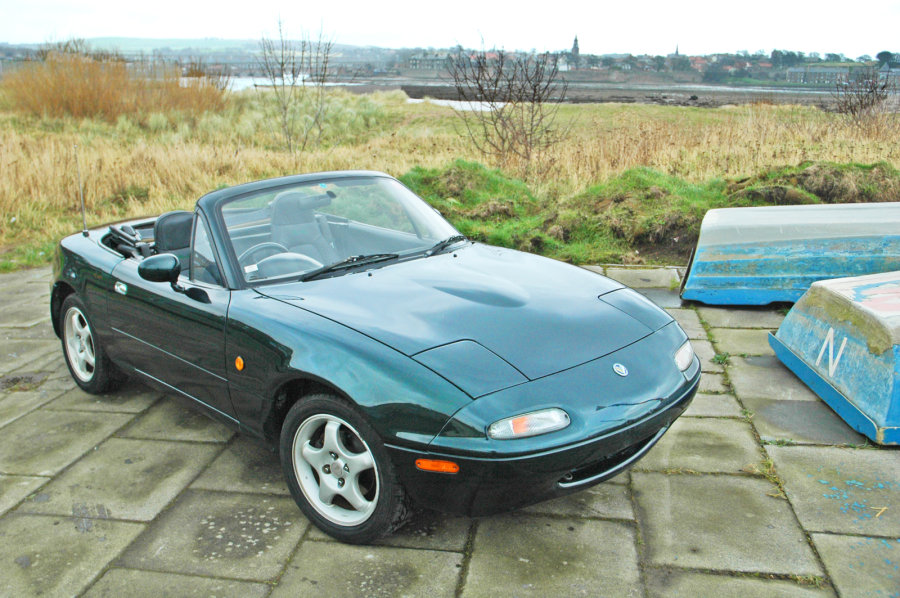 Why Buy A New Import?
Its all about condition. By British standards, the Japanese simply look after their cars so well. Japan's equivalent of our MOT is particularly strict which means their standards of maintenance are so much higher than those in the UK. The Japanese are often very enthusiastic car owners and take great pride in preparing their cars for show rather for driving fast - Japanese speed limits and road conditions mean fast driving is just not practical. The final - and perhaps most important - factor are the weather conditions in Japan. For a start it's a lot drier than here and crucially, they don't use salt on roads in the winter and this results in wonderfully rust free bodywork. The underside of these cars really has to been seen to be believed – they genuinely look as though they rolled off the production line last week. In fact look at the photo below: this is the underside of a 20 year old Eunos S-Special. I'll just say that again - this car is 20 years old. Its cleaner than my wife's 4 year old Mercedes!
As ever, I'm not claiming that our imported cars are perfect but the bits that really matter are just right. As an MX5 enthusiast, the stuff that gets me excited are ultra clean sills, perfect wheel arches and a clean, solid underside. Finding this on a car thats been in the UK for for a few years is very difficult. Our new imports are fantastically clean, rust free and usually of a much higher standard and specification than UK cars. The usual problem areas of rusty sills, wheel aches and worn out suspension components simply don't occur on our cars. The photos shown on this page are all of cars recently imported by us and illustrate the condition of a typical car.
Occasionally I am asked about any potential difficulties with running an imported car in the UK. In fact DVLA records now show that there are more 'imported' MX5s on British roads than cars originally sold new by Mazda's UK dealers. For this reason, spare parts are as easy to obtain as they are for a UK car and insurance is equally straightforward - we can recommend a number of reputable insurers if required.
One final point is value: MX5 prices are on the increase. There has been a substantial shift over he last couple of years and this move is gathering pace. Consequently good cars that are well looked after are increasing in price. The first cars I imported back n 2014 have increased in price by a 40-60%. I expect this situation to strengthen in the coming months and years as the rusty cars disappear from our roads and the good examples become even more scarce. Right now, a typically good newly imported MX5 will cost £6000-£9000; now look at the price of a reasonable MGB, Midget or Spitfire and then take into consideration how much better an MX5 is to actually drive and there really is no comparison.
Why Buy a New Import from Us?
I know I'm a bit of a car geek and a self-professed MX5 nut; I have owned literally thousands of MX5s so I know how these cars should drive and handle. I have sold them, modified them, broke them and fixed them, many times! I have a great team of people around me who do the jobs I don't want to, people who I have worked with for years and have been chosen because they have the same values as me.I have a great track record in turning out a very nice car. I have also competed in the Scottish Hillclimb Championship (in an MX5 of course!). Very simply, I'm pretty good at spotting a good MX5 and at making one work to the best of its ability.
Buying An MX5 to Order
While I always like to have a few newly imported cars in stock, the lead time on a new import is quite lengthy (perhaps 8-12 weeks) and most of my cars sell before they actually arrive. Consequently many people prefer to buy a car to order or to reserve a car. I'm happy to let you know what I have on its way over or can even try and find a car to your specification. I always ask for a deposit which will reserve the car for you and the balance is payable once the car arrives and has been prepared.